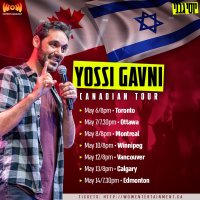 THE SHOW IS IN HEBREW!!!
Looking for a night of pure laughter and entertainment? Yossi Gavni's Stand-Up Comedy Show is the perfect prescription! With his intelligent and relatable humor, Yossi will have you laughing until your sides ache and your cheeks hurt.
Yossi's unique perspective on contemporary topics like love and marriage, the challenges of raising kids in the age of the internet, and the quirks of Israeli culture will leave you in stitches from start to finish.

But don't just take our word for it - experience the joy and laughter for yourself :)

Come join Yossi and discover why his stand-up comedy show is the talk of the town!
Doors open @7pm
Tickets are final sale. Any refunds will not be considered.
--------------------------------------
מופע בעברית!!!
הכירו את האמן שסומן כדבר הבא בסצנת הסטנד אפ בישראל – יוסי גבני.
הסטנדאפיסט, שכולנו מכירים מהזוג יוסי וטירן, ומתכניות הטלוויזיה "מעבר לגבולות", "מחוץ לחוק" ועוד, הוא סטנדאפיסט בוגר ושנון שמדבר על הנושאים שבאמת מעניינים אותנו כל הבדלי המעמדות, המצב הביטחוני וכמובן מערכות יחסים ויחסים. הקומיקאי מופיע בשפה העברית.
הוא עוטף הכל בסטנדאפ אישי, אינטליגנטי וחצוף, שלא מתעכב על נפילה על הקהל או בדיחות נמוכות, אלא מכוון גבוה ופוגע בדיוק בבטן.
המופע משלב בתובנות מבריקות, דמויות מצחיקות, אלתור, הפסקות גיטרה והכי חשוב סטנדאפ חד, שנון ומתוחכם, שיגרום לקהל לצחוק בהיסטריה ללא הפסקה.
הדלתות נפתחות בשעה 19:00